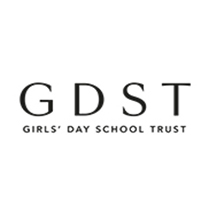 The Girls' Day School Trust
Registered Charity No.306983
The Girls' Day School Trust (GDST) is the UK's leading family of independent girls' schools, with nearly 4,000 staff and 20,000 students between the ages of three and 18.

At the GDST we are committed to reaching as many girls as possible by offering one of the country's leading bursary schemes. Our schools represent the very best in teaching and pastoral care. We foster academic excellence but also build character, helping girls to be confident, resilient and fearless.
Nearly 1,100 pupils benefit from a means-tested GDST bursary, representing one in eight of the students of our fee-paying senior schools, and 40% of those receive full bursaries. We want pupils on full bursaries to participate fully in school life, so we help meet the cost of extra-curricular activities, uniforms, travel, and more.
GDST bursaries and scholarships are available to any student aged 11 and over at a GDST senior school. Most bursaries and scholarships are allocated on entry either to Year 7 or to the Sixth Form. Bursaries range from 30% to 100% of fees; however, the amount of any bursary depends on local demand and the funding available.
To assess who is eligible for a bursary we consider a range of objective criteria including the income and capital resources of the families applying. We re-assess every year to take account of significant changes in family income and circumstances, and a bursary may go up or down to reflect these. This ensures those most in need receive our support.